Unique Full Day Trips
Personalized to the way you want it to be…
Enjoy these unique all day packages alongside your family or group of friends. Explore our beautiful reef and create your own memories of snorkeling, fishing and even BBQ on the beach all on the same day.
1 to 4 Persons (boat price) …………………………………………. $400.US
5 to 8 Persons (boat price) …………………………………………. $490.US
9 to 35 persons will be priced by group size at the time of need.
Browse through the Packages… 


Mexico Rocks/Tres Cocos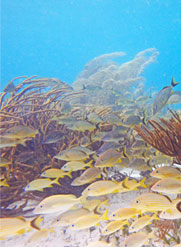 NORTH TO MEXICO ROCKS & TRES COCOS
Mexico Rocks is one the favorite snorkeling site for tourist because of the unusual formation and abundance of corals and fishes. Few meters out, right off the reef, is Tres Cocos, another snorkeling spot with even more vibrant marine life. The day trip includes a stop at Palapa Bar where you can enjoy a cold one of your choice to cool off while floating on inner tubes or enjoy a a giant burger. If you wish we can add a BBQ on the Beach, it's a personalized day trip so you decide.
Caye Caulker
DAY TRIP TO CAYE CAULKER
Just South of San Pedro you will find yourself enchanted by the quaint island flair of Caye Caulker, a small and splendid island where you can find gift shops and great places to have lunch. The island's famous spot, The Split, features an enjoyable setting in the water where you can enjoy a refreshing cold beer or drink with your friends. The trip includes a snorkeling stop at a popular spot along the reef, either at Hol Chan & Shark Ray Alley or at Corals Gardens & the Manatees, it's your option to choose.
Reef, Pole & Spear Fishing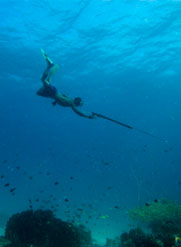 REEF, POLE and/or SPEARING FISHING FULL DAY
Are you a fan of fishing? yes…have you ever tried spear fishing? no…then this is the ideal fishing trip for you. Our fishing is done against the reef where areas of corals host amazing amount of fish like Permits, Dorados, Barracuda, Groupers, Mackerel, Yellow Fin Tuna, Marlin, Wahoo's, Bone Fish and many others. If you are up for the challenge, you and our Spear Fishing expert can take a dip into the shallow water and shoot for the best catch. We also offer to clean and up and cook up your catch for a small fee.
On all the trips you will have your private guides just for you and your group/family. Rum punch, fruit and water is served, but you can bring your own booze (BYOB).