Dive the Belize Blue Hole
$260 US
$40 US park fee is additional
The three most amazing dives you will ever experience in your life!
This trip is comprised of three dive stops, each in a different location.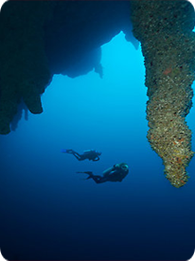 1. The Blue Hole
Your first dive of the day, around mid morning, is the Blue Hole. Maximum depth is 130ft for 8 minutes, and total dive time is 25-30 minutes. The sink hole has a depth of a little over 400ft and a 1000ft in diameter. The edge of the hole is flourished by corals and marine life, offering a feast for the eye of divers and non-divers. The way down is described to be one of the most intricate dives in the world. The sink hole opens up to more cave systems, from where you will see impressive fresh water stalactite & stalagmite formations measuring up to 30ft. You will encounter numerous reef sharks like black tips, grey Caribbean shark and sometimes hammer head sharks.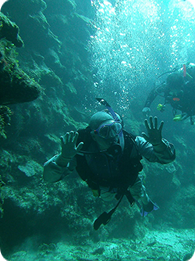 2. Half Moon Caye
Get ready for an unforgettable experience. This dive is done at 60ft max for 45 minutes, including your 3 minutes safety stop. This is where you will be doing a wall dive; a dive like no other. The reef around this Caye is rich in corals like sea fans, elk horns, lettuce coral, brain corals and many more. Other attractions are sharks such as the lemon shark, bull sharks or the black tip shark and also eagle rays, sea turtles and other attractive creatures.
After this dive we dock on the island to spend an hour for lunch, relax and also visit the red footed Booby Bird Sanctuary.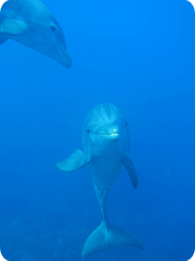 3. Aquarium
The name given to an area near Long Caye where the reef takes a sudden turn to the East forming canyons and coral creases where a vast amount of corals and animals flourish. The dives are done at 50-60 ft max for 45 minutes including your 3 minutes safety stop. You are guaranteed to catch the photo of the day, with so many to see, you can encounter creatures that are rare to spot including the playful dolphins. Some people say this is the best dive of all three.